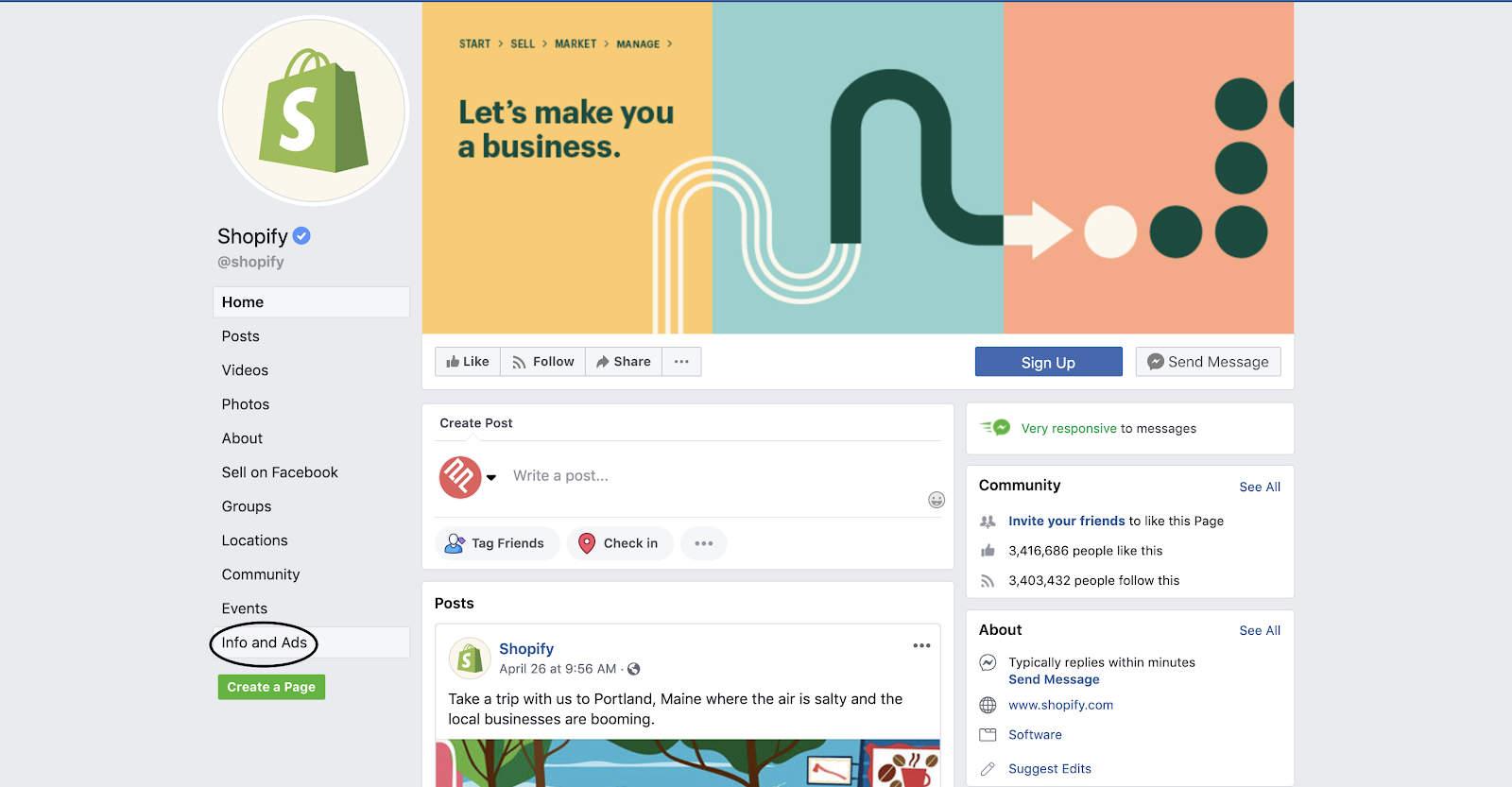 Keeping an eye on competitors in your industry should be an important part of your market research strategy. Competitor advertisements provide insight into special promotions, landing pages, and even targeting data.
This post will dive into a few different techniques and tools you can leverage to see what and how your competitors are advertising
In an attempt to be more transparent with its users, Facebook has made visible any current advertisements actively being run by any page.
To view active ads for a Facebook page, visit the page and select the Info and Ads section on the left menu.
View the screenshot below as an example.
Once the Info and Ads section loads, you'll see a running feed of all active ads from the page. From this page, you can change the selected location to view ads being run in a different location.
The screenshot below provides an example.
While Facebook does not include much targeting information or engagement metrics, you can still click-through any ads displayed to view the URL associated with the ad. Take this time to view image create and videos used by your competitors as well.
In the past few weeks, Facebook has also rolled out their Ad Library, which displays a collection of all ads currently running on Facebook. The library can be accessed with or without a Facebook account and emphasizes its focus on ads centered around politics or issues of national importance.
Even if your competitor isn't running any political ads, this is still a powerful tool for spying on your competitors' advertising efforts.
Much like the Info and Ads section, the Ad Library will display active ads with their image or video creative as well as the website URL the target audience will click-through to.
If the brand you're researching has run any ads recently that are political in nature, you will be able to view more details like targeting, amount spent, etc.
In the screenshot below, you'll notice Shopify has several ads that Facebook has deemed to be political in nature. This makes their audience targeting much more visible for competitors.
If you're interested in spying on your competitors' active Instagram ads, it's fairly simple with Facebook's recent update.
Similar to the Info and Ads section we looked at earlier, you can visit a competitor's Instagram business profile and view their active ads.
To get started, go to your competitor's profile on Instagram and select the three horizontal dots in the top right-hand corner of the screen to open a menu.
When the menu loads, select the "About This Account" section. This will take you to the Info and Ads section.
From there, select the "Active Ads" option to view ads currently being run
The active ads section will allow you to switch between different ad formats. Select "Story" or "Feed" then select the ad you'd like to view.
Leverage these different tools to gain strategic insights on your competitors and their advertising efforts. This information can help you design creative for ads, write captivating headlines, create landing pages that convert customers.