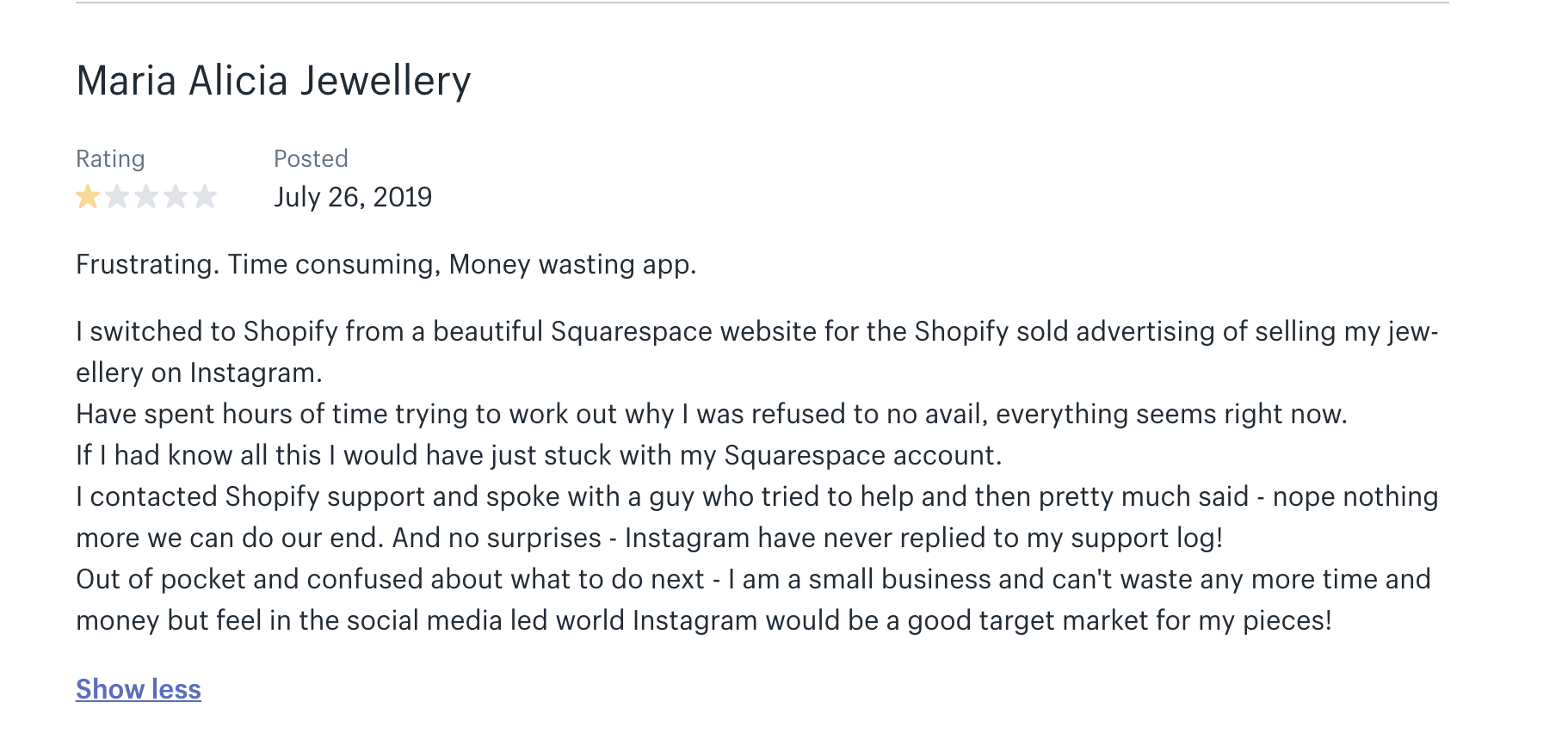 Since announcing the Instagram sales channel last year, Shopify has received both praise and criticism for the powerful, yet sometimes difficult addition to its collection of places merchants can sell their products. On its own app store Shopify averages a 1.6 star rating for the Instagram sales channel app, which allows merchants to directly tag their products on Instagram posts and stories.
A large portion of the negative reviews come as a result of the confusion and inconsistent review process by which Instagram determines whether or not a merchant is eligible to sell their products through shoppable posts. See a few examples of recent feedback left by frustrated Shopify merchants below: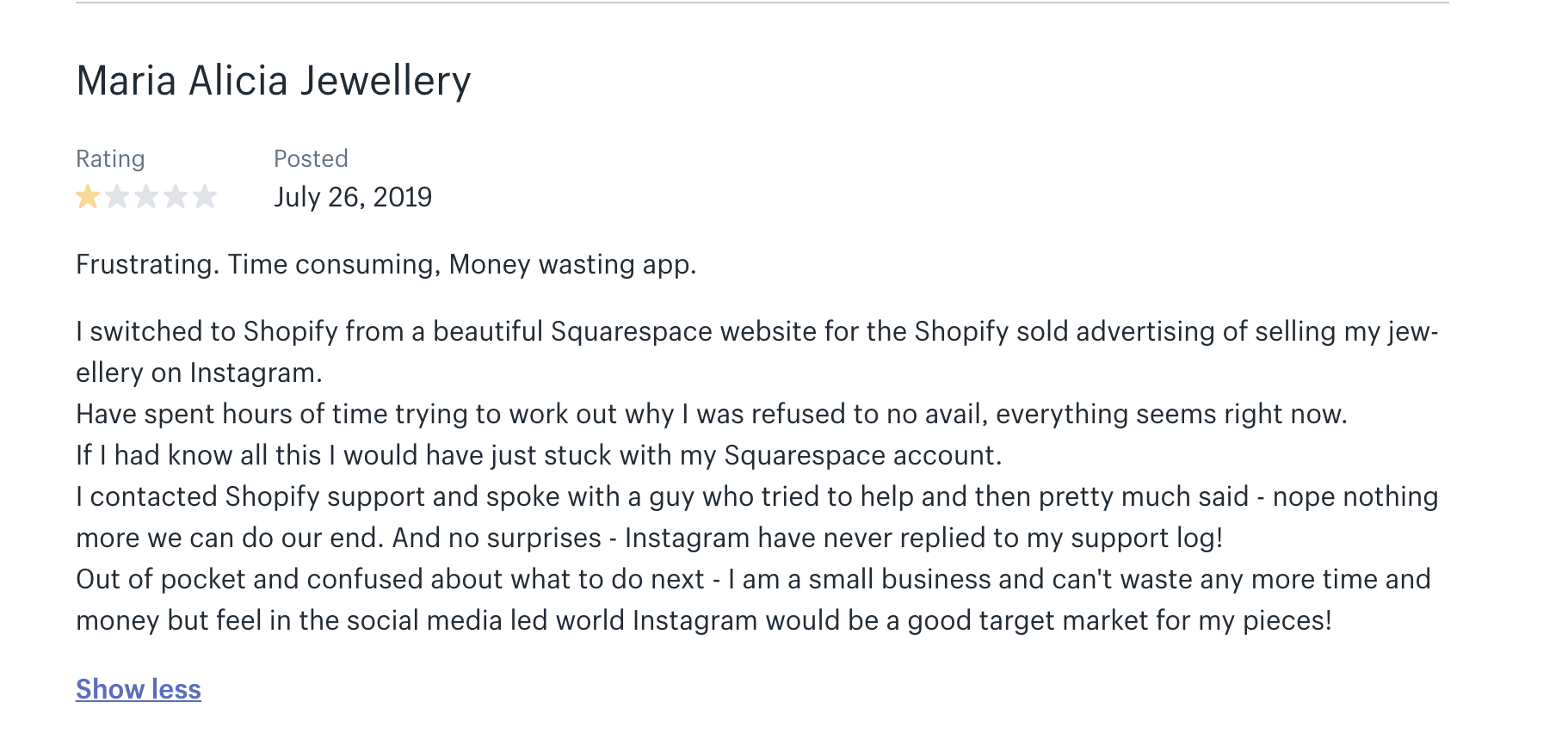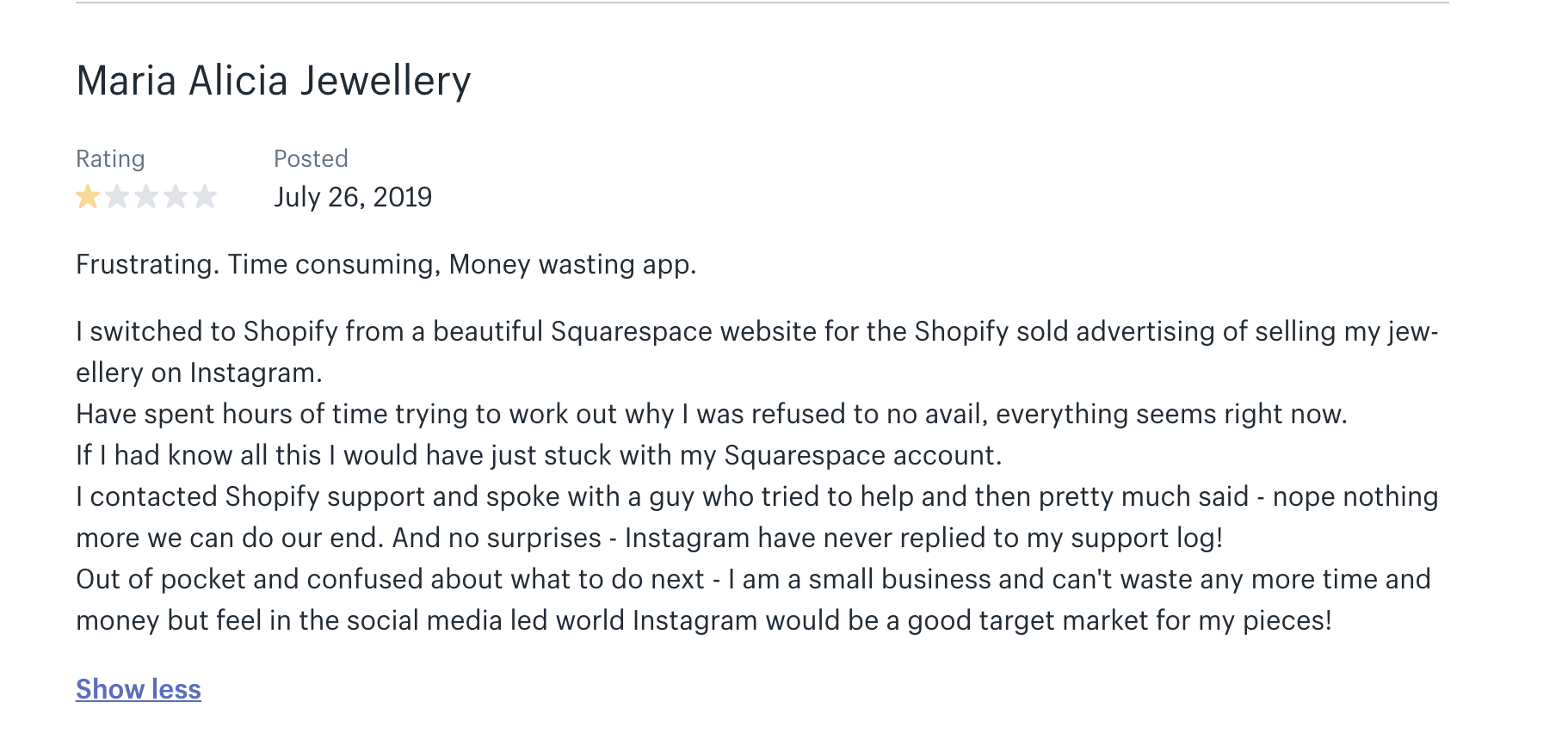 For dropshippers especially, Instagram offers one of the largest social media audiences available and can serve as a meaningful source of revenue for new and established dropshipping businesses. Naturally, Shopify merchants are eager to activate this sales channel to sell more products. Instagram has unfortunately made this process a bit difficult.
Instagram states its requirements for Shopping on Instagram as follows:
Despite these seemingly straightforward requirements, many merchants report having their store listed as ineligible for Shopping on Instagram without much explanation. Upon being denied, merchants are instructed to contact Instagram for more information. Outside of reporting an issue inside the Instagram app, there is little-to-no meaningful support offered for merchants who experience these issues. Shopify has consistently stated they are not familiar with the review process used by Instagram and are not able to appeal the decision Instagram makes.
As a result, merchants are often left helpless after being denied by Instagram for product tagging.
We've discovered a simple, yet often overlooked part of the review process that can cause merchants to be denied for the Instagram sales channel. An important part of the Instagram/Facebook commerce policy is its list of prohibited content which states items that are not permitted to be sold on Facebook or Instagram including:
So, how does Facebook know if your products fall into one of the prohibited content categories? We assume the first step is checking the category assigned to the Facebook page your Instagram account is connected to, since categories like Wine/Spirits and Adult Entertainment Services are available as possible options for you to choose.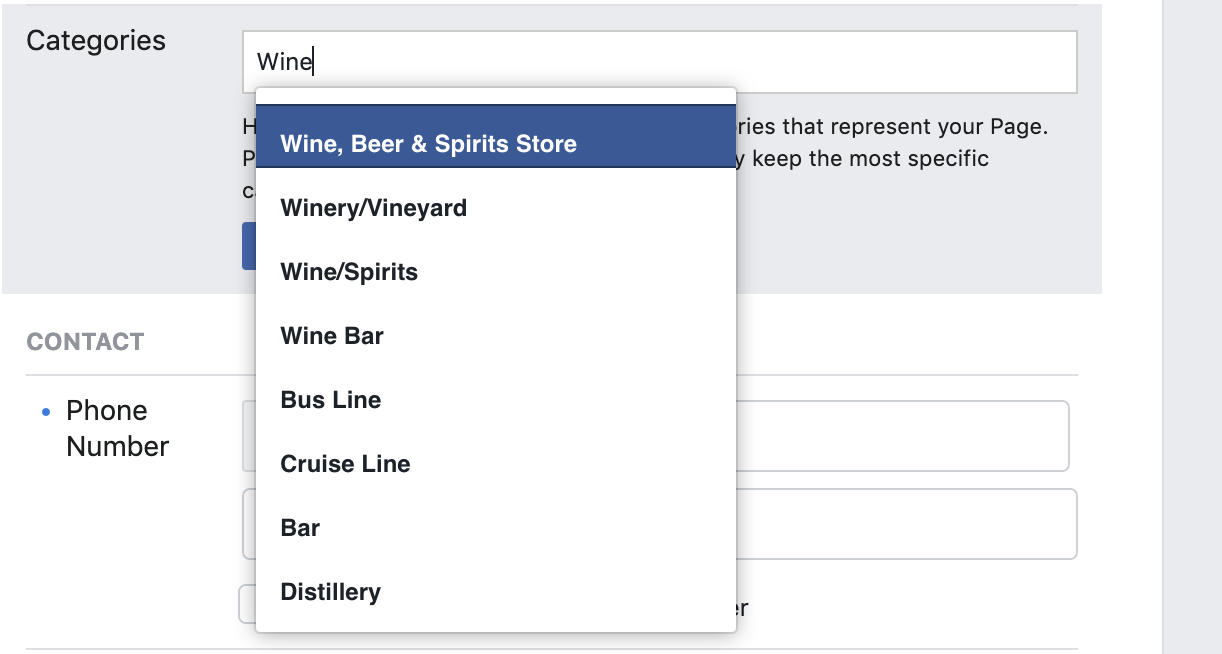 Many new and experienced merchants make the mistake of leaving this information blank on their Facebook page, essentially entertaining the idea that their products may fall into one of the prohibited content categories.
Check the category assigned to the Facebook page your Instagram account is connected to and if it's blank, update it to the appropriate category.
We've tested this theory multiple times and found that it has constantly been a significant factor in a merchant being denied on the Instagram sales channel. New merchants may specifically get denied for this reason due to their Facebook page being created relatively recently.
Adding a category to your Facebook page can allow you to be approved for the Instagram sales channel if you meet all other requirements listed by Instagram.
To edit your Page's category:
We hope this information helps get your shop closer to leverage the Instagram sales channel this year. Looking for quality products to sell on Instagram? Check out the ProductPro app for thousands of US products you can sell on Shopify today!