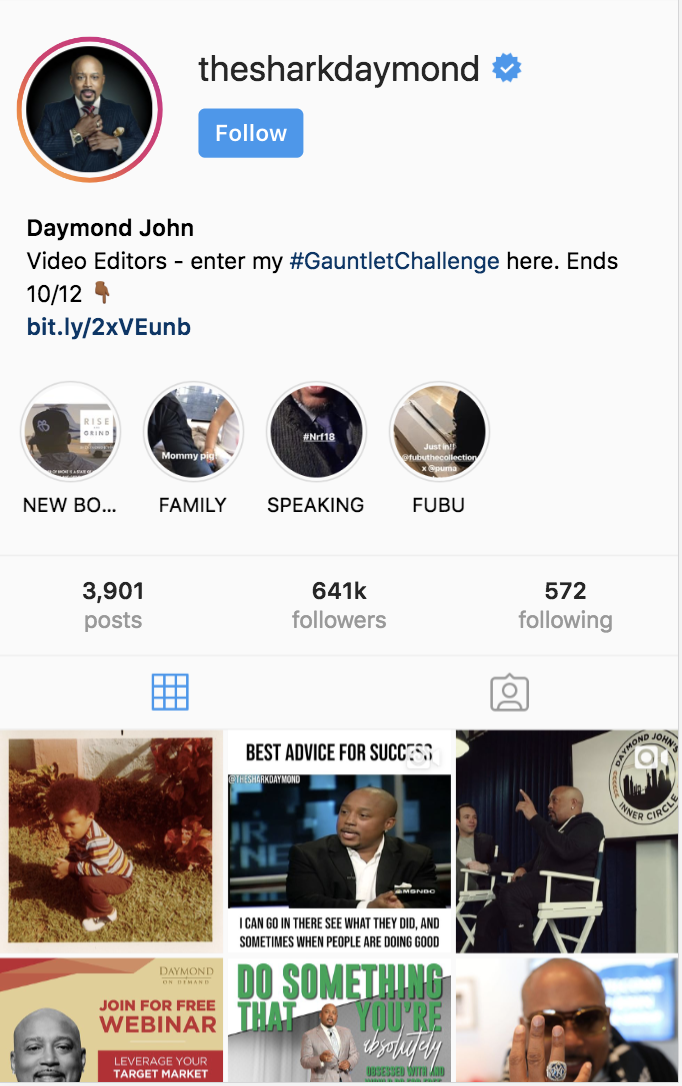 Instagram serves as one of the biggest social media platforms in 2018. Ready to take your Instagram page to the next level? We've selected 20 of the best Instagram accounts for entrepreneurs to follow. Check out the list for inspiration, tips, and motivation as you continue to build your own brand on social media.
Daymond John is known for his role as an investor on "Shark Tank", but is also the founder of clothing company FUBU.
Outside of his business ventures, Daymond is an author and motivational speaker.
His Instagram feed is full of inspirational quotes and lessons for entrepreneurs.
You're likely already familiar with Shopify, but many entrepreneurs have yet to discover their creative, inspirational, and helpful Instagram account!
Shopify is an e-commerce platform that offers entrepreneurs everything necessary to start an online business.
Their page offers plenty of entrepreneur stories, motivational quotes, and success testimonials to keep you working toward your own goals.
Perhaps one of the most well-known internet personalities, Gary Vaynerchuk gained his claim to fame when he grew his father's wine business from $3 million to $60 million. Since then, he has founded a digital agency and launched a sports agency.
Gary's channel is full of interviews with big-name entrepreneurs and motivational insights to keep you fired up and energized.
Jenna is a professional photographer well-known in the entrepreneurship community. With over 600k followers, she's mastered the art of creating an engaged following.
Her channel features practical advice to help entrepreneurs build an audience online, with a little bit of humor mixed in.
Tony Robbins is one of the most recognized personalities in thought leadership. As a businessman, author, and life coach, he's reached millions of people across the world.
Tony's Instagram page is full of personal moments, scenes from his live events, and motivational anecdotes that any entrepreneur will find helpful.