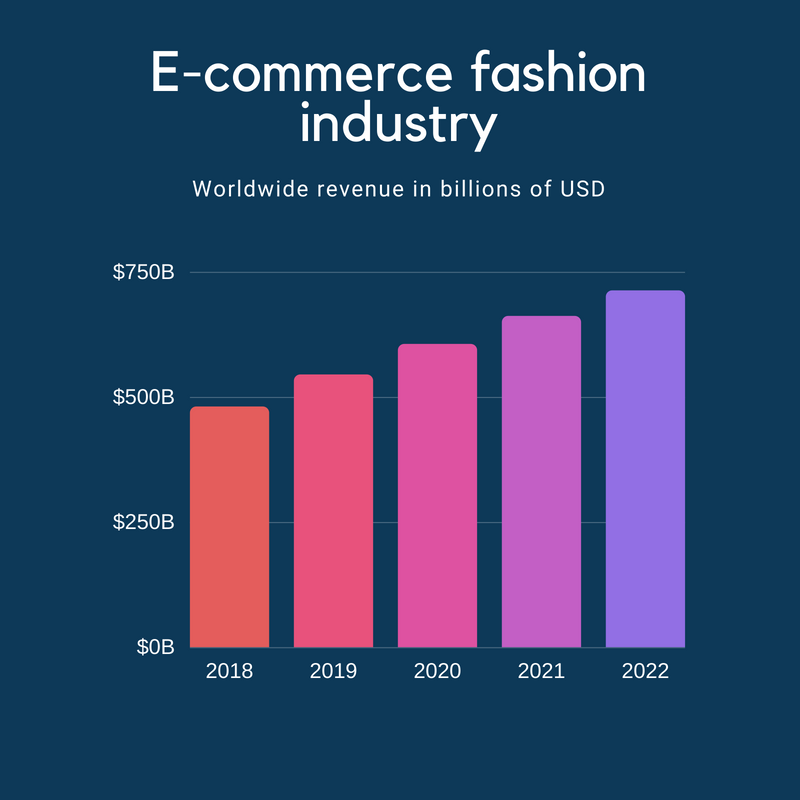 Fashion is one of the fastest growing industries in the world. As a $400B industry with 7 years of consistent growth, it's no surprise that independent e-commerce retailers are starting businesses and selling fashion products. Dropshipping is a popular business model for fashion retailers at all levels, including big names like Macy's & Target.
As a Shopify user, you have many options when it comes to finding fashion apparel and accessories to sell on your store. Shopify's app marketplace is the best place to start looking for great products and suppliers in the fashion industry. In this post, we'll be comparing ProductPro to one of the most popular product sourcing apps on Shopify, Modalyst.
What better place to start? The quality of the products offered is an important factor to consider when choosing a product sourcing company to partner with. Let's explore the different factors that go into sourcing products from the ProductPro app and Modalyst.
All products on ProductPro ship from the USA. This guarantees fast shipping times and helps retailers like yourself avoid issues with customs, lost packages, etc. Unfortunately, all of the products listed on Modalyst do not ship from the USA. Some are noted to ship from China, Italy, and other foreign countries. This can complicate your business with long shipping times.
How important is fast shipping? According to Bringg, 26% of US online shoppers abandoned their shopping carts due to shipping times being too long. Long shipping times can hurt your conversion rates and cost you potential customers.
Product quality is another consideration to take into account when sourcing products. By sourcing products outside of the USA, you run the risk of product quality not meeting your expectations as a retailer, and especially as a customer. Modalyst states that every supplier must be approved by a team member before going live, which helps ensure their products meet quality standards. However, two of their product catalogs are sourced from suppliers who have a history of offering cheap, low-quality products.
The first catalog is their Trendy, Affordable Items selection. All products in this selection are imported from the Shein Marketplace, a Chinese supplier with warehouses around the world. The products are made in China, and the reviews left on various sites speak to the quality of their products.
"Will never order from them again. Poor quality, ill-fitting clothes, terrible returns process and unhelpful customer support." Michelle, TrustPilot
"They will try anything to avoid giving any refund. Fit was not as advertised. Told me to give it to someone as a gift! Eventually I got a tiny amount refunded, after I said I'd take it up with PayPal. Look upon it as the cost of dealing with a rip off company. I learnt the hard way. Never use these Chinese companies." – Caroline, Sitejabber
ProductPro takes pride in assuring customers that we review all of our suppliers and their products to guarantee we only offer high-quality products. As a retailer, just one negative customer experience can be detrimental to your business. Using ProductPro gives you the peace of mind that the products your sourcing have already been vetted and verified.
As a dropshipper, you expect little to no investment when starting your dropshipping business. Calculating all of your costs will include looking at subscription fees for services like ProductPro and Modalyst. Let's review the pricing structure for each service.
ProductPro offers two basic subscription plans. The monthly plan has a cost $15/month and gives you complete access to the entire app with unlimited products and unlimited orders. Our other plan is paid annually at $96/year for the same unlimited access.
Modalyst has three different plans available for dropshipping retailers. Their Basic plan is free and comes with the following features: Chrome Extension with Unlimited Products & Premium Marketplace of US Suppliers, Non-Premium Suppliers Only. The Chrome extension allows users to source products from Shein, Wish.com, and the Modalyst Marketplace. This plan does not give users access to their premium suppliers and comes with a 5% transaction fee.
The Pro plan comes with all of the features the Basic plan offers, as well as access to their premium suppliers. It's available for $45/month and a 2% transaction fee. The Business plan offers the same features as the Pro plan with only a 1% transaction fee. It's available for $150/month.
While Modalyst's Basic plan offers millions of different products, it does restrict users from accessing their premium products with faster shipping times. You'll also be faced with a 5% transaction fee on top of Shopify's transaction fee. Upgrading to either the Pro or Business plan can be costly for a retailer just starting out on Shopify. The Pro plan is $540/year and the Business plan is $1,800/year.
Our pricing offers retailers an affordable dropshipping solution without restricting access to our entire catalog. If you'd like to try ProductPro for free, use code SHOPIFYLOVE for a 14-day trial.
We often think of dropshipping and imagine a "set it and forget it" type of business, but that isn't always the case. The fulfillment process of the dropshipping solution you choose will be an important factor to consider when making your decision. Fulfillment refers to the process of shipping a product to the customer after an order is placed on your store.
Here is how orders are fulfilled on Modalyst:
"For Shopify retailers, the order is communicated immediately upon purchase, including the customer's shipping information. Next, visit the orders section to pay for the item. For all other retailers, visit your inventory list on Modalyst and pay the brand directly for the items after they sell."
This isn't exactly full-automated. While the order information is pulled in automatically, you will still need to visit the Modalyst app every time an order comes through. That's not a big deal if you have 2-3 orders a day, but when dozens start coming in, that can be very time consuming.
ProductPro is proud to offer fully-automated order processing, billing, and fulfillment on all orders. Once a customer places an order on your store, we automatically pull the order in, bill you for the order, and begin the fulfillment process with the supplier. Once the order is shipped, a tracking number is added to your Shopify order automatically and the order is marked as fulfilled. This is the true "set it and forget it" solution.
As a retailer, you have many different factors to consider when choosing a dropshipping solution. The great thing about dropshipping on Shopify is that it's very easy to move between dropshipping apps to see what each can offer. We always suggest testing the waters and even considering using multiple solutions. Always research the solution you choose beforehand to fully understand their products and their offering.
ProductPro offers high-quality fashion apparel and accessories from US-based suppliers. With automated fulfillment and vetted suppliers, you can build, launch, and grow your fashion dropshipping business on Shopify with ProductPro.